"For it is by grace you have been saved…"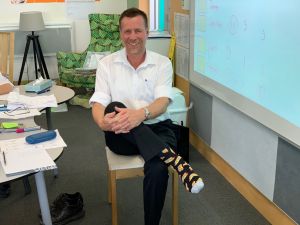 Students at Northshore's new Middle School seem a little confused today.
Despite the beautiful new classrooms, the sunshine streaming in and their highly experienced teacher enlightening them on the virtues of the Australian electoral system, these eleven year old's seem transfixed by Mr Pivetta's wardrobe choices.
"Why are you wearing hot dog socks, Mr Pivetta?"
A smile comes across the teacher's face.
"Umm..do I have a choice? In fact, does anyone ever have a choice?"
We have shifted dramatically from crazy socks to existential questions about free will and God's divine plan for mankind in the blink of an eye.
The students are slightly bewildered, but there is a sense that everything is exactly as it should be.
Here is a man who is interested in the big questions about life.
That's Steve Pivetta.
He is one of the pillars of the Northshore staff and a Christian teacher that his co-workers describe as "completely dependable and rock-solid."
A knock on the door brought Steve to Northshore Christian Grammar School.
Happily teaching at the Beechboro Christian School campus under Geoff Dunjey some years ago, Steve was approached by a Christian friend and asked to look to the north and support the work that Stuart Chisholm and his team were beginning in Alkimos. He met with Stuart Chisholm and the rest is history.
"It's a great team up here. We strive to show students that we care for them, and that their needs are being met here. The foundational aspect of setting up a new school is exhausting but also exciting. It suits me, because I like to do a bit of everything and these settings work for me."
Steve is an Anglican minister, previously worked in the Attorney-General's office in Canberra, and is the General Secretary of CMS in Western Australia (https://www.cms.org.au/) an organisation which seeks to serve current missionaries, promote prospective missionaries and inform local churches about missions globally.
When does a mission-minded individual decide to be a teacher in a SCEA school?
"When you realise that there are endless gospel opportunities for teachers to serve in many places around the world," says Steve.
"There are some areas in the world where teachers can go that missionaries are not allowed to go. I'm serving here at Northshore now, and absolutely loving it. Who knows what doors God will open for all of us in the future?"
Steve attends Kallaroo Anglican Church, and holds onto Ephesians 2:8-10 very tightly.
For it is by grace you have been saved, through faith—and this is not from yourselves, it is the gift of God — not by works, so that no one can boast.
For we are God's handiwork, created in Christ Jesus to do good works, which God prepared in advance for us to do.
"As I get older I have become aware that salvation is something that God has given us. This salvation is a complete gift. Grace means gift. Loving God and taking this verse seriously is really important to me," says Steve.
Keep an eye out for Steve if you see him at a SCEA event or head up to Northshore's new middle school block and ask for the guy wearing hot dog socks!