There are countless people in our world who we may never meet personally, but their work is all around us and we are forever blessed by what they do.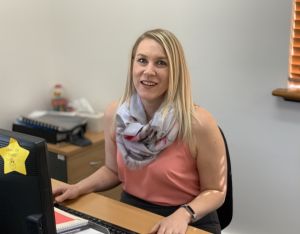 Belinda Godfrey is one of those people. She is the Payroll Officer for SCEA.
She never misses a deadline, she meticulously plans for every eventuality and, during this period of uncertainty, she has already tested her systems for processing the salaries and payments from home.
What a relief!
This is the calming presence that Belinda brings to the hive of activity that is the SCEA Head Office. Leave accruements, Long Service Leave provisions, Superannuation discussions. How can anyone find this interesting after thirteen years of being a payroll officer?
"I enjoy the challenge of solving problems. The calculations, the challenge of making it all work. That's the part I enjoy the most."
Belinda started at SCEA back in 2006 and has seen it all. New schools, new people and new systems, but her focus remains the same even today, as she prepares for working from home – if and when that eventuates. "I love the amazing things that happen in our schools. I'm lucky enough to hear the stories of children whose lives have been changed because of our great teachers at SCEA. I have always enjoyed working in this Christian environment. It's a joy to be a part of something special like this."